ISBN: 978-1-940222-68-4
Available at






178 pages
$13.97 in softcover
$3.97 in ebook

Also by John T. Biggs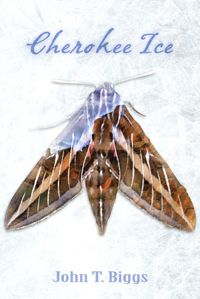 Read three
free
Southwest Gothic Tales by John T. Biggs here!
Popsicle Styx

by John T. Biggs
Richard Harjo, PhD, DD, is an Oklahoma death-row chaplain whose job is to prepare inmates to meet their maker. That's a challenge for any minister, especially one who has serious doubts about a supreme being. He thought he'd never get his faith back — until he met a Choctaw murderer named Holabi Minco, who might be a witch.
In the tradition of his people, Minco keeps a calendar made of sticks — popsicle sticks, since they come with lunch. He writes people's names on the sticks with his blood, and when their day comes up, they die. Some of those people are on the execution roster, but some aren't.
Richard learns he may be part of Holabi's ritual. And when Holabi's beautiful daughter Kinta Minco enters the picture, her other admirers — a corrupt prison guard and a white supremacist who are stalking her — make things difficult.
With his hands full escorting killers to the execution chamber and making love to Kinta, Harjo hardly notices he's caught up in a complex plot to break Holabi Minco out of prison.
Will the mystical Minco avoid execution?

Praise for John T. Biggs and Popsicle Styx:



The Popsicle Styx protagonist happens to be an Oklahoma death-row chaplain lost somewhere between Christianity, Catholicism, psychology, white man's divinity, and Choctaw mysticism. For the record, a calendar stick is a North American Indian system for keeping track of events and time and is often based on astronomical observations. In the case of whites and 'mud' people incarcerated in the Oklahoma Department of Corrections, time is written on popsicle sticks. In blood. Your name appears on a stick, your time is up, even off the 'row.'
"'You look like hell, Rev," prison guard Madeline tells Chaplin Richard Harjo. 'Worn out from carrying signs from God,' he responds. 'It's heavy work.'"
Remember Elmore Leonard? Man wrote some 50 books, uncounted short stories, and numerous screenplays. He's known for his gritty dialogue, plot twists, and leaving out 'the part a reader skips anyway.' John T. Biggs penned 'Styx' as if he had scribble orders straight from the man.
Combine John T's mysticism, unsavory characters, and heinous crimes sloshed over with a little sex and you have a late night page turner. Damn fine read that doesn't waste a single word.
~ Nancy Hartney, author of OWL's 2014 Best Book of the Year Washed in the Water: Tales of the South.

I recently took advantage of a Kindle 99-cent sale and splurged on a novel by John T. Biggs titled Popsicle Styx. Why would I do such a thing? Because I was curious. Because I wanted to know what I would be missing if I spent my week hunting rabbits.
Almost immediately, I ran into trouble. Could it be possible that Biggs wrote the entire book in a "flow of consciousness" style? Too late. I had already ingested the first three pages. Or was it nine? No, closer to twenty-five. I was hooked by the story and the skill with which Biggs worked the style, using dialog to trap the reader in regional authenticity and, despite a few rough edges, successfully weave his tapestry of fiction.
It was fiction, wasn't it?
Reverend Richard Harjo is an Oklahoma Creek Indian with degrees in divinity and psychology. His unenviable task as prison chaplain is to provide spiritual comfort to condemned prisoners languishing in the Department of Corrections H-Unit, waiting their turn for a lethal injection.
His job is complicated by a crisis of faith - not the usual kind where the sufferer wonders whether there is such a thing as a God and an afterlife. Instead, his faith is challenged by Choctaw mysticism, giving him too much to believe in. He unwittingly finds a spiritual guide of his own in the person of Holabi Minco, a Choctaw with witching powers who is himself scheduled for execution before the end of the month.
Richard is torn by self-doubt until he meets Holabi's daughter, Kinta, and falls in love. Soon he finds himself breaking Commandments and Oklahoma law as he follows her through a puzzle of murder and rape and the dark side of the soul.
The condemned and their caretakers are joined by forces beyond their comprehension. As Biggs explains, "H-Unit inmates are saturated with the magic of a certain death at a certain time in a certain way. They don't all believe in God but they all believe in something."
I believe I'll try another one of John T. Biggs' books.
~ Jon M. Etheredge



Biggs has this everyday-Joe-ness about him that sometimes makes it hard to reconcile the stories that come out of him. It also makes the publisher's task of teasers/plot synopsis pretty hard. But never make the mistake of passing over his books!
With always just the right mix of noir/magical realism/Okie local color/crime, his prose packs a Karen Russell meets NDN country style wallop that will leave you wanting more. He really does deserve a sub-genre all his own. Someone get on a tag for that.
Expect to roll out of bed looking for owl feathers after this one. Popsicle Styx is a twisty mind f*** (for lack of a better term) with meaty characters and strong women of color—another of Biggs' many talents. You'll lose some sleep propelling to its end.
Another winner from a diverse and innovative small press that knows how to draw the best from its writers.
Can't wait for more.
~ C.A. Larue, The Review Review and Bonespark Blog



Popsicle Styx is smart, original, and completely engaging. John Biggs just keeps getting better.
~ William Bernhardt, New York Times Best Selling Author



The first page-turner I have read in a long time.
~ Penny



If you havenít yet read Popsicle Styx by John T. Biggs, do yourself a favor and get a copy. This short novel is a terrific read. Told primarily from the point of view of protagonist Richard Harjo, a Creek Indian Oklahoma Death Row minister, Popsicle Styx is a psychological thriller that merges fact, intuition and vision into such a thorough mixture that it almost becomes magical realism. Besides Reverend Harjo, a Ph. D., D.D. struggling with his own faith, Biggs gives us an array of memorable characters including Wolfie Lafleur—inside whose skinhead, white supremacist, Christian Identity, serial rapist and killer mind we uncomfortably visit briefly Ė and three death row inmates: Tammy Wynette Biggerstaff, triple-murderer of young, sexually abusive men; Oba Leon Taylor, another even more crazed white supremacist; and Holabi Minco, Choctaw witch and master trickster. Thereís also bad guy prison guard Anton Leemaster but Biggs presents the beautiful, enigmatic Kinta Minco, daughter of Holabi, to settle us and Richard Harjo down just when we all need it the most. Overall, Popsicle Styx is an outstanding, well-written and entertaining book.
~ J. B. Hogan



What do you get when you mix: a preacher, white supremacists, crack-heads, strippers, and Choctaw witches? A book called Popsicle Styx, of course. The action centers around death-row inmates and a prison Chaplain who questions his faith and the existence of magic. This story is odd but so well written! No doubt about it, John T Biggs can weave a story with the best of them, and his writing is brilliant. I liked it. I didn't like it. At times I laughed out loud with the dark Christian humor. One thing is for sure, this one is damn interesting!
~ R.H.Burkett: Author



This book is dark, fascinating, surreal, and completely gripping. I don't use the term "page-turner" that often, but this is one story that I could not put down. Richard Harjo's character, a morally uncertain and ambivalent counselor to death row inmates on their way to execution, was completely convincing, as were his interactions with Kinta Minco, the daughter of one of the inmates whose execution he is scheduled to attend, and the evil and twisted characters Oba Taylor and Wolfie Lafleur.
I look forward to reading other books by John T. Biggs. His writing is masterful, and his characters captivating and all too real. No doubt of the five-star rating for Popsicle Styx.
~ Gordon P. Bonnet



Popsicle Styx by John T. Biggs just blew me away. Johnís stream-of-consciousness style meshes perfectly with the storyís magic realism theme. The story follows Richard Harjo through a maze of Native America witchery and the modern system of so-called humane capital punishment. Richard ministers to those about to be executed, but he questions his faith, his education, and the Native American mysticism his grandmother taught him. Beautiful phrasing puts you in the moment and chilling personalities are all too real. An excellent read—Iím looking forward to more from John T. Biggs.
~ Kay A. Lawson



A dark, inventive and frightening look into the hearts and minds of the worst society has to offer. Biggs is one heck of a writer but I'd be afraid to look too deeply into his thoughts. This is a book you won't put down until you finish it. My kind of book, definitely, and I'll look for his next one with anticipation. It isn't often an author can scare me more than I scare myself. My only question is, when does the movie come out?
~ Velda Brotherton



Popsicle Styx has no redeeming characters, and I must admit that's not a bad thing. The pluses: Magnificent writing but a very dark story that takes the reader deep into perverted minds and unseemly places. Descriptions of people, places, and emotions opened all my senses to where I could see, smell, ear, and feel along with the characters in the scene. Most of the time I struggled to understand if what was happening was real, a dream sequence, or drug induced state. Nothing is as it seems inside the prison or outside.
Other reviewers have described the action. So I'll deal with the mysticism and inner struggles for redemption that drives the story. Is God real? Is magic real? Where does the human soul go when death occurs? Every character has his or her own struggle, except for Kinta and Holabi Minco. They're sure of their plan. The author, himself, seems torn between God and fate, Good and Evil, and never clearly defines the two. Can a man have two souls, one that goes to a happy place and one that stays on the earth, whether to be at peace or not.
If there was a drawback for me, it was that, except for the ending, I knew what would happen next as it happened. It didn't matter because the journey swept me along. I have to say I have never read a novel like this in my life, so thoughtful, so dark, and yet so magnificent.
~ Bill Wetterman, author of A Covenant with Death



John Biggs is an award-winning author and it's plain to see why. Larger than life characters draw the reader in just as his prose brings the story to life. John's unique take on everyday events will stay in the reader's mind for a very long time.
~ Regina Williams, Editor/Publisher The Storyteller and Mockingbird Lane Press
---
John Biggs has two dilemmas: he's seen the magic that surrounds everyone and he can't stop writing about it. We don't know if it has anything to do with the Native American culture that surrounds him, but we wonder. There was that business with the paint. He swears it was just a smudge on his cheek he got when doing a little touch-up around the house, but we're not so sure.
His knowledge of the criminal underworld benefitted from a part time job as a night security guard in Chicago and his later work as a prison dentist in Lexington, Oklahoma. His familiarity with the mystical realm is a mystery to most who know him as a pretty regular guy.
John moved to Chicago in 1968, in time for the Democratic National Convention riots, which he didn't attend but remembers in great detail. He's written many research articles — a very bad way to learn the craft, he says — and started writing fiction in 2001. Since then he's published dozens of short stories and won numerous awards, including the grand prize of the 80th Annual Writer's Digest Writing Competition for "Boy Witch."
John and his wife travel at every opportunity. He loves reading and writing to the point of fanaticism, and spends altogether too much time in cemeteries. He won't tell us who he talks to there, but it's clear he's got a direct line to someone — or something — that's giving him inspiration.