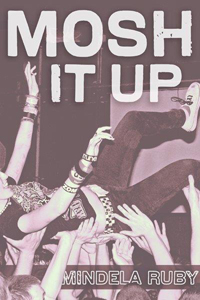 ISBN: 978-1-940222-70-7
Available at






236 pages
$14.97 in softcover
$4.97 in Kindle

Join Mindela
at her website
or on Facebook.


Mosh It Up

by Mindela Ruby


Punk rock riot girl Boop has the indomitable soul of a dreamer and the train-wreck life of an unruly compulsive. When her dying neighbor calls on her for help, Boop vows to clean up her act and goes chasing a comeback in Sex and Love Addicts Anonymous. Her mess-ups, kind heart and willingness to change make Boop an endearing rogue, but most unforgettable is her antic, hilarious, no-taboo voice.

Praise for Mosh It Up:

What a glorious novel—funny, angry, poignant, bawdy, tough, excruciatingly sad, and then bowl-you-over funny again. Mosh It Up is a literary marvel. It's complex and rich and humane. It's original. It's a linguistic kaleidoscope. It's not just moving, it's searing. It's an A-list stunner from start to finish, with a controlled and crazed and love-starved and utterly convincing narrative voice that no reader will ever forget. (Holden Caufield gone punk, gone female, gone roadie, gone nympho-desperate.) I was awestruck by this beautiful and lovingly made novel.
~ Tim O'Brien, author of The Things They Carried and the National Book Award-winning Going After Cacciato

Mosh It Up is great. The style is so sure, the pace is perfect, and there is no grinding of gears as you set the thing moving and race along. And besides your prose being wonderful, it is such a good story.
~ Philippa Kelly

Even if the only thing you know about punk is that Brand New's Your Favorite Weapon album is widely regarded as a masterpiece, Mindela Ruby's hardcore, hard-knocked punk protagonist Boop demands your attention and never lets go. Mosh It Up may be authored by Ruby, but it is definitely Dickinson "Boop" Park in charge of telling her own wild story—one of addiction, music, sex, friendship, and fate.
We meet Boop well on her way to rock bottom, sitting on the floor of her "neighborhood drink-tank." It's the late 90s in the San Francisco Bay area, and punk is in. After a couple of Boop's witty and blunt observations, it becomes clear that she has a stubborn, two-track mind: The A-side is her punk band's (self-declared) starry future, and the B-side is sex—violent, life-consuming, self-destructive sex. Boop's road to recovery only begins when she discovers her terminally-ill neighbor Sada suffering next door, and the ride is long, treacherous, and ultimately healing.
It is a talent for an author to abandon any sense of their own voice (or what you think it may sound like) when penning a first person narrative. That is where Mosh It Up's greatest strength comes through; Boop's voice is unlike any character I've experienced before. I may have had to reread the first page to understand what she was even saying at first—Boop speaks her own unique jam session of slang, puns, jokes, and sarcasm that can't be mistaken for anyone else, making her a true headliner among first person narrators.
While slang is considered lazy in real life, Ruby's writing is anything but. Snappy, vivid, unabashed, and completely her own, Boop's thoughts jump off the page. Each line boasts its own beat and is carefully crafted to deliver the right punch of sounds to the reader—even though Boop claims she "can't even write a song to save [her] life," her dialogue is lyrical and complex and truly entertaining to read.
Despite Ruby's energetic storytelling style, the tale she tells is decidedly dark. The physical abuse Boop believes she enjoys from her reckless hookups isn't easy to stomach, and neither is Sada's battle with Progressive Systemic Sclerosis. This is especially true for someone who admittedly cries very easily (read: me). However, these scenes were necessary to propel me to the very bottom of the barrel with Boop—the raw, aimless, dangerous bottom—and to stand as monuments of old, destructive habits for Boop to kick down one by one as she finally confronts the sinister fragments of memories that control her entire life.
When flipping back through the beginning of Mosh It Up, I fully appreciated the complete transformation Boop undergoes. It feels subtle and natural, and there are certainly setbacks that make you cringe—but also moments that make you cheer like you were headbanging in the front row of an Up the Wazoo concert (Boop's all-girl punk band). Whether you were (or are) a dedicated concert-goer or never leave the house aside from grocery shopping, Boop's journey will take you somewhere wild, provocative, and enlightening.
~ Catherine Vlahos at Blotterature.com

Mosh it Up!, Mindela Ruby's terrific first novel, probably really doesn't belong among the hard-boiled, noirish authors I normally review because it really isn't a book about crime.
Not unless you count the child molestation; the rapes; the sexual battery; the DUIs; the hit-and-run; the credit card fraud; the drug abuse; or the grand theft auto.
The book is actually a novel Dorothy Parker might have written had she still been alive in the late 20th Century and deeply into the North Oakland punk scene.
Mosh it Up! is all about a 23-year-old can of macadamia nuts named Dickenson Park whose friends (and enemies) call her Boop. The book concerns her struggle to escape the wreckage of her past, learn what she can from it and move forward.
It's like body surfing the crowd at a punk performance, getting banged around in the slam-dancing area that gives the novel its name, sucking up the excitement of the experience, but emerging relatively intact when the music stops.
The book unfolds in first person with Boop herself as the ultimate unreliable narrator. Ruby doesn't put 1990s slang in her characters' mouths. Boop speaks in puns, spinning out her characters' comments in fully rounded sentences that seem like normal speech until you realize she is twisting words, serving up Spooneresque renderings, Malapropisms and other jokes aimed at people who have a functioning brain and some understanding of the larger world beyond their doorstep.
Ms. Ruby not only does this well, but disguises the fact she is doing it. She is like a skilled magician who manages to pull endless scarves out of her sleeve. It isn't until you put her book aside that you realize that the reason Boop's words sound wholly fresh and original is because they actually are!
The pages of Mosh it Up! are peppered with these creations. Ruby sneezes out so many of them I eventually stopped trying to keep track:
"With my shades on, it's dark-and-a-half outside."
"When we got there, the scene looked poky, and Bridgit wanted to leave. But after paying thirteen bucks, I said let's see if this party improvifies."
"Networking, baby. Wait 'til we're the indie chart toppers with people falling all over themselves to meet us. I'm keeping a list of the ignoranuses that blow me off. When my chance comes, I'll deep-freeze them."
(I'm particularly fond of ignoranus, a compound of two words that communicates a meaning clearer and better than either of its parts. I plan to start dropping it into conversations myself—particularly those involving elected officials in Washington D.C.)
Her playful way of using language isn't the only thing about Ruby that reminds me of Dorothy Parker; her mordant humor is another, particularly when she is writing about her character's frequently unfortunate sexual escapades. When Boop talks about sex and the men she pairs with, a lot of the words Ruby puts in her mouth are just laugh-out-loud funny.
If Boop, alone, was the only character Ruby brought to life this way, Mosh it Up! would still be well worth reading; but she isn't. Ruby gives Boop an elderly female neighbor to care for: Sada Pollard, a kindly but acerbic soul who happens to be dying from a degenerative disease that slowly squeezes the air from her lungs. Sada is as sharply drawn as Boop, with her own speech patterns, mannerisms, even a strange clucking sound she makes as she struggles to breathe.
I enjoy a lot of the stuff I read and review for this blog, but books that I actually find exciting are rare enough to surprise me. Mosh it Up! is definitely one of them. Buy it. Read it. You'll be glad you did.
~ William E. Wallace from www.pulphackconfessions.com.

Mindela Ruby's tour de force Mosh It Up packs a powerhouse of a story. Her hero, the sex-addicted, on-the-outs rock 'n' roll manager Dickinson "Boop" Park, is one for the ages—part hep-cat adventurer, part jive-talking raconteur, and all heart.
~ Joe Clifford, author of Junkie Love and Lamentation

Great read! An inspiring tale of transformation. Witty wordplay abounds as Boop stomps through a wild, razor's edge ride in the post-punk Bay Area. I highly recommend Mosh It Up.
~ Rachel Thoele, Bassist of the band Flipper

Mindela Ruby writes raw punk. This book is a rhythm and a jarring, jangly riff on love and sex and dream and friendship and what it means to be really blazingly alive.
~ Amber Sparks, Author of May We Shed These Human Bodies and The Desert Places

An Excerpt:

New Guy blows into my neighborhood drink-tank, his sights set on the beer taps. I'm sitting cross-legged on the floor of the bar, solo like him. He's clad in a high-gloss iridescent leather jacket. A big, dark bubble.
He's ready to freddy—I can tell by how he teases at the groin of his jeans and vets the chicks in the joint as he orders up. A couple of barely-drinking-age buffys exit the Ladies' and breeze to the bar. New Guy multitasks, mentally undressing the cuter buff while guzzling his just-served brew.
Not that his cad antics get me hot. Waiting to chat up my friend that works here is all I'm up to. Laying low, biding my time. The giggly career gals on the stools don't notice New Guy leering as they toast whatever the occasion is with mixed drinks. Near the front of the bar, a floozy with mud-color legs pouring out of her tight purple whoredrobe coolly dances her shoulders, which catches New Guy's attention.
All I catch is bartender Tiny's glower. More than once, he's tongue-lashed me for making myself a tripping hazard. Breathing room, I keep telling him—that's the reason the floor is my favorite seat.
Gita, my friend, the waitress, crouches to visit on-the-fly. "Tell me, oh wise one," she says. "Where can people get abortions?"
"You're preggers?"
She nods and pulls a stagy frown.
If I was in Gita's shoes, I could be all over raising my own little baby, though not the wrong way I got mothered. "Near the university on Durant? There's a clinic where I get free AIDS tests. Technically, since it's run by a church, it's anti-choice. What I hear, though, is some clients get referred for D&Cs. You positive that's how you wanna solve this?"
"Thanks, Poop," Gita jokes.
A female rock climber swaggers into the bar and says, "What's up?" to me in a husky voice. If I was licky-sticky lusty, the grail I'd crusade for, the person making me gotta, would be New Guy, not this butch girl in shorts. Her gal pal shows up a minute later to join her at a table. Gita hustles to take their order.
Jimmy the Gardener, the other regular in here, keeps his own tabs on the crowd. The working girl with Brandy Alexander foam clinging above her lip treats New Guy to a drunken smile. Jimmy sneers, resenting the male competition. New Guy slides his swill toward the Mai Tai of the buffy with the looks-like-natural-sun-streaked hair. Their cup lips nearly touching, his spit cooties could be transferring to her drink. She shoves her glass away and squinches her sorority buns to the far edge of her stool, next to her friend. New Guy leans toward the girls and runs his mouth about "custom sport truck . . . amateur boxer . . . live nearby?" Before he runs out of pick-up line buzz-kill, the co-eds zip their peach and sea-green hoodies and quit the premises in a pastel minute.
---