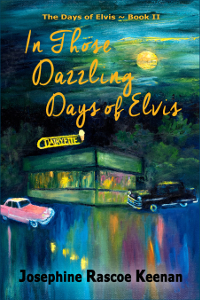 ISBN: 978-1-68313-077-2
240 pages

$24.95 hardcover
$14.97 softcover
$4.97 ebooks
Available at

Pen-L in

OR

Also available at

Amazon

Barnes & Noble

Smashwords

Kobo

Scribd
Connect with Josephine

www.KeenanNovels.com

Facebook

Twitter
In Those Dazzling Days of Elvis
~ The Days of Elvis Series, Book 2 ~
by Josephine Rascoe Keenan
A secret rules her life.
In the days when Elvis Presley dazzled the nation, his "good luck charm," Julie Morgan, a small-town girl bound by the social code of the 1950s, makes a serious mistake in a bungled attempt to cope with her broken home and bolster her self-esteem. A seemingly innocent decision to attend a concert proves to be a misstep which leads to another, and another, and yet another, ultimately catapulting her into a horrible dilemma with no apparent way out.
In desperation, Julie agrees to a scheme that Carmen, her lookalike, insists will be Julie's salvation. Their plan is risky, and Julie's resolve wavers, but Elvis's long-distance friendship and support give her strength. Renewed, she moves on, until fate intervenes in this "perfect plan to turn back time and restore her innocence, leaving Julie alone in the heap of rubble that was once her life. How will she be able to escape the tragic consequences of her choices?
Can you ever hide from the truth?
Also by
Josephine Keenan
Praise for In Those Dazzling Days of Elvis
"The author touches on potentially difficult issues—divorce, infidelity, pregnancy, and abortion—and does an admirable job portraying the often inconceivable repercussions of now commonplace experiences in a small, Southern town in the '50s . . . A convincing glimpse into the challenges of navigating small-town gossip, social pressure, and the inevitable difficulty of becoming an adult."
~ Kirkus Reviews

"This historical fiction is like pulling back the curtain of time. I got caught up in Julie's emotionally powerful story—a riveting read."
~ Dan Roket, Amazon reviewer

"This book is a seamless mix of laughter and tears, comedy and tragedy. The author evokes the innocence of a former age as we get a glimpse of what life was like in a small Arkansas town in the early 1960s. I found myself transported to another time and place peopled with characters that were sometimes likeable, sometimes mean spirited but always interesting. I laughed and I cried and I was sometimes uncomfortable but never ever bored! Bring on book 3!"
~ Laura Shewmon, Amazon reviewer

"I very much enjoyed this second book in the series. It follows a young girl's life in the '50s when moral codes were much higher than they are now and you paid the consequences if you broke one. It, however, was light and fun and kept my interest with a few twists, plus Elvis continues to show up which makes him more "real." It was a different time and Mrs. Keenan brought back all the nostalgia of the age. Wonderful!"
~ Deborah M. Chapman, Amazon reviewer

I loved this book! I grew up in El Dorado Arkansas and could put myself in all of those places . . . including Elvis' shows at the football stadium. Great read for the teenagers. Should make them think, shouldn't it? Good job, Josephine.
~ BT
---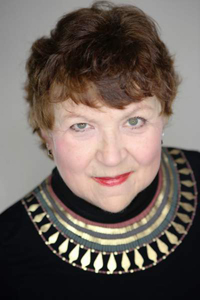 Josephine Rascoe Keenan grew up in the little town in Arkansas where all three books in "The Days of Elvis" series are set: El Dorado, city of "black gold." After reading Gone with the Wind when she was eleven, she decided to become a writer someday. That day came after she had worked many years in the entertainment industry as a director and an actress with many talented people, such as Johnny Cash in the made-for-TV-movie The Pride of Jesse Hallam.
Josephine wanted to tell a story of what life was like in the '50s when Elvis was first coming on the scene. Elvis had done a few concerts in El Dorado before he hit the top, and she thought it would be great to create a story about a girl who met him before he became the King of Rock 'n' Roll. The result was a three-book series entitled "The Days of Elvis."
Josephine is a versatile writer. Cricket magazine has published two of her short stories: The Petticoat Skipper (March 2016), about Mary Greene, one of the first female riverboat captains, and Ohoyo Osh Chisba: the Unknown Woman (November 2007), about the coming of corn to the Choctaw people. Her poem, "A Ride on Grandpa's Foot," appeared in Modern Maturity Magazine in August 2005, and Reader's Digest published her submission for Humor in Uniform. Three of her plays have been produced in regional theatres: Friends and Life's a Butter Dream, both of which toured with Artreach Touring Theatre, and The Center of the Universe, a three-act play chosen as a winner of Ensemble Theatre of Cincinnati's New Play Contest.
Josephine enjoys oil painting, and her work will be featured as the cover art for all three books in "The Days of Elvis" series. She and her husband love traveling, square dancing, and gardening.
Copyright © 2011–2015. Pen-L Publishing. All rights reserved.