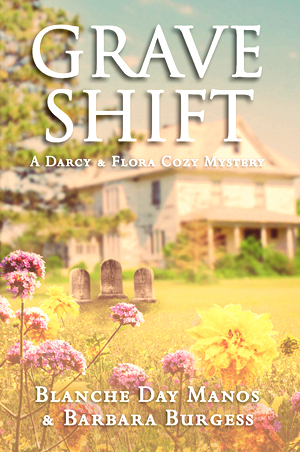 ISBN: 978-1-940222-84-4
Available at








184 pages
$12.97 in softcover
$19.95 in audiobook
$4.97 in ebooks


Get the entire
Darcy & Flora series
for only $33.00!
(Click Here)

Find Blanche at:
her website or
on Facebook.
Grave Shift

~ Darcy & Flora Cozy Mystery #2 ~

by Blanche Day Manos and Barbara Burgess
Before the long nightmare ended, Darcy would often wish her mother had not opened that letter from an unknown woman. But, she did open it and shared it with her daughter, plunging both Darcy Campbell and Flora Tucker into a tale of an unsolved mystery, a web of secrets, and the discovery of an unsuspected traitor.
In tracking down clues about the disappearance of a young woman, Darcy and Flora leave their hometown of Levi, Oklahoma, and drive to Amarillo, Texas, then back again. Following leads that have long been covered, both women find more than one surprise including some discoveries about themselves.
Check out the trailer here!
Praise for Grave Shift

This is a new-to-me series. It's the second one in the Darcy & Flora Cozy Mystery series. It's always fun to be introduced to a new series. I didn't feel as if I was missing anything by not having read the first one. A mother/daughter sleuth team is a bit different and works well with these two.
The plot is interesting with an engaging cast of characters. The narrator, Michelle Babb, has a wonderful talent for giving a different voice to each character. It makes for an enjoyable listening experience. I'm looking forward to listening to more of this series.
~ Yvonne at Socrates Book Reviews



Blanche Manos lets the reader to get to the characters and weaves suspense into the story. Well written cozy mystery!
~ Nancy Kay Grace, author of The Grace Impact



So nice to continue with the familiar characters I met in the The Cemetery Club. I enjoy the close relationship between mother and daughter. There is a new adventure around each corner.
~ Elaine Jones



Blanche Manos lets the reader to get to the characters and weaves suspense into the story. Well written cozy mystery! Grave Shift continues the Darcy/Flora mystery series of page-turning suspense and down-to-earth characters.
The writers create a sense of being there, developing images and sensations as the mother/daughter team go about solving the mystery of buried clues and devious schemes on their land. A touch of romance completes the delightful reading experience every mystery buff seeks.
~ Barbara Youree, author of the award-winning Courageous Journey


Click here to see all the reviews for Grave Shift!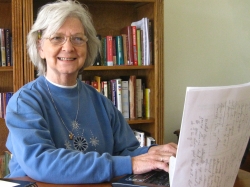 It may seem strange to some that a mild-mannered kindergarten teacher would become an author of cozy mysteries, but it's actually a good fit. A teacher is a word craft. So is a writer. A teacher wants the efforts of her labor to have a positive outcome. So does a writer. A teacher prays and hopes that each student has a positive take-away from her work. A writer hopes that for her readers too. A teacher would like each of the children in her classroom to achieve a satisfying life. Although she can't control that, as a writer she can control the way her books conclude!
A native Oklahoman, Blanche has a deep familiarity with the Sooner state, so it's the logical setting for her books. Her Cherokee heritage and feeling at home in the rural settings of Oklahoma are vividly woven into the background fabric of her books. Her other published cozies include The Cemetery Club and Best Left Buried, books one and three of the Darcy & Flora Series.
Barbara Burgess is a retired trial court administrator who says she found many good story ideas in the courtroom. One of those ideas evolved into her first suspense novel, Lethal Justice, published in 2010. She also co-authored The Cemetery Club, a mystery novel based on Cherokee history. Her father was half Cherokee and she says much of her family history involves Cherokee legend and beliefs similar to those found in Grave Shift. She has also written short fiction for Woman's World and Alfred Hitchcock's Mystery Magazine and freelanced for several Arkansas newspapers.