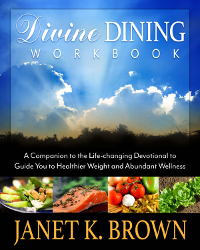 ISBN: 978-1-68313-079-6
~200 pages

$12.97 in softcover
$2.99 in ebooks
Pre-order now!
Available everywhere
soon!
You can find Janet at:

www.JanetKBrown.com

Facebook

Twitter

or email her at Janet.Hope@att.net
Divine Dining Workbook
by Janet K. Brown
A companion to the life-changing devotional!
For four years, the Divine Dining Devotional
has provided a daily devotion and discussion for those who struggle with overeating or eating unhealthfully.

Now, the Divine Dining Workbook,
a companion to the life-changing devotional, offers an in-depth study of eating addiction. It offers thought-provoking questions that can change your life. This book may also be used as a guide to facilitate a weight controller's class, where many assist and support each other.
Praise for Divine Dining: 365 Devotions

"If you're one of those people who have tried diet after diet that didn't work, or if you lost pounds only to gain them back again, or you're saying you 'have to go on a diet,' then Divine Dining is the book you need to have—and read. Divided into 365 easy-to-read devotionals, the author—who has been there, done that—shares the secret to how she took off 95 pounds and kept them off. Brown teaches weight loss classes and, after reading this book, you'll see that she practices what she preaches. The book is not only informational, but inspirational."
~ Donna Clark Goodrich
Also by
Janet K. Brown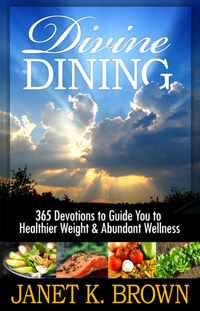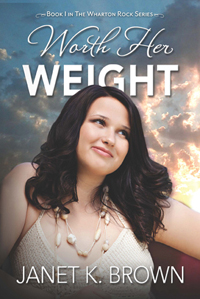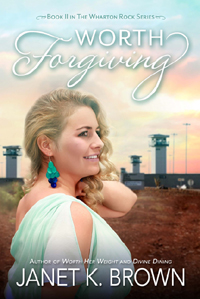 ---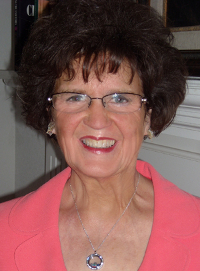 Even Janet was surprised that she had a penchant for teens and ghosts when she released her debut novel, an inspirational young adult, Victoria and the Ghost, in July 2012. She's been writing ever since. She uses her platform of recovering compulsive overeater to weave stories of hope for addiction, compulsion, or impossible situations, with an occasional detour into the paranormal.
Worth Forgiving, a work of inspirational women's fiction, is the second in the Wharton Rock Series, and follows Worth Her Weight, published in 2015. The third installment in the series is due out in 2017. She also penned an in-depth devotional for healthy living titled Divine Dining: 365 Devotions to Guide You to Healthier Weight and Abundant Wellness (2012). Her long-anticipated accompanying workbook was released at the end of 2016.
Janet and her husband, Charles, love to travel with their RV, work in their church, and visit their daughters' families. When not traveling, they live in Wichita Falls, Texas, where she teaches workshops on writing, weight loss, and the historical settings of her teen books.
Copyright © 2011–2015. Pen-L Publishing. All rights reserved.