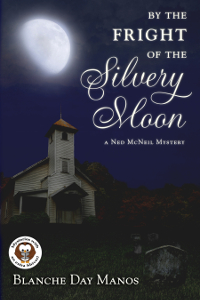 ISBN: 978-1-68313-099-4
~200 pages

$12.97 in softcover
$4.97 in ebooks
Available at
Pen-L
Amazon
Barnes & Noble
Smashwords
Kobo
Connect with Blanche

www.BlancheDayManos.com

Facebook

By the Fright of the Silvery Moon

~ A Ned McNeil Mystery ~

by Blanche Day Manos



Is it Moonlight or is it Murder?
Ned McNeil is haunted by a nightmare that wakes her in the middle of the night, leaving her gasping for breath. A dog—or is it a wolf?—howling in her yard under the brilliant autumn moon sends chills down her spine. Is the moonlight and the fact that she is alone in Granger Mansion causing her imagination to work overtime?

Hidden by a dense fog, an unknown driver pursues Ned to the edge of a cliff, an innocent-appearing luncheon ends in violence, a neighbor drops dead for no apparent reason, and a hidden shooter waylays her in a deserted cemetery. Surely, these are not coincidences.

Every old house has a history and Ned thought she knew everything about Granger Mansion, but the house holds some deep secrets of its own. Those secrets very nearly cost Ned McNeil her life.

By the Fright of the Silvery Moon is a page turner; a cozy mystery with an extra shiver that just may keep you up at night, even when the moon isn't full!
Praise for By the Fright of the Silvery Moon
"Oh, my, what a goose bump-creating novel! I had shivers right away. This was not only a mystery with the goose bumps but it was also cozy, so it is unique to the genre. I think this a book that certainly deserves to be read by more cozy and mystery fans. It's a diamond of a find to review and I am eager to read the next book.
"I Rate it *****"
– Bree Herron at www.Bibliophile.Reviews

"Ned McNeil has gone back to the 'home place' and the great old house her uncle left her. While she settles into the community, renews old friendships, meets new people, and one loving guardian, she begins to realize that there are some members of the community that are not so welcoming. Blanche Manos weaves a suspenseful story with characters good and evil, which will keep you turning the pages. Her clear, fast-paced writing is a delight to read, and just when you think you know it all, a twist may change your mind!"
– Janice Gilbertson, Author of Summer of '58 and The Canyon House

"By the Fright of the Silvery Moon is a delightful read. You will feel right at home in Granger Mansion, along with 'Ned' McNeil, her cat, Penny, and a dog named Ulysses. The fireplace is lit and the coffee is on. This is a mystery that will keep you in suspense until the very end."
– Sharon Mierke, author of The Widow's Walk and the Mabel Wickles cozy mysteries

"It's really fun when you get into a series that never loses momentum or quality and keeps getting better. That's my experience of Ms. Manos' latest in the Ned McNeil series. I've been following Ned's adventures from the start. I will say that you won't have any trouble following along if this happens to be your first time reading her, but you'll enjoy the others.
"I tend to read before bed, and I will say this one's hard to put down. Sometimes my eyelids won the battle for a night, and I could hardly wait to read more of Ned's adventures the next day.
"Ned first came to her Oklahoma home to visit her uncle, whom she found dead on the floor in the first book (not a spoiler, as this happens at the start and is in the book description!). An old school friend becomes a love interest, and they're taking their time about things. Mishaps and mystery follow Ned like hounds track a piece of meat, and she's up to her chin in trouble again in this book.
"I enjoy the cast of characters, especially the besties, and I love how Ned gets a watchdog.
"This is an excellent read, in my opinion, full of warmth, intrigue and chills."
– Ronda del Boccio, The Story Lady
Books by
Blanche Day Manos
The Ned McNeil Series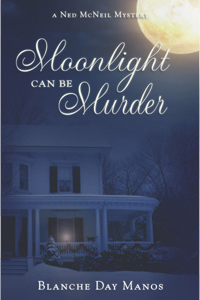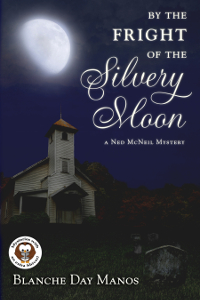 and the Darcy & Flora Cozy Mystery Series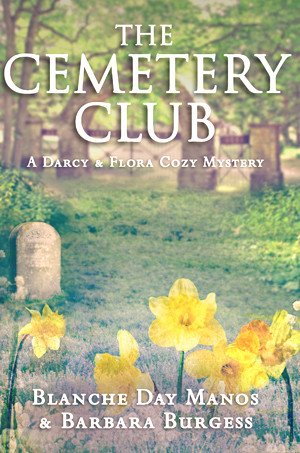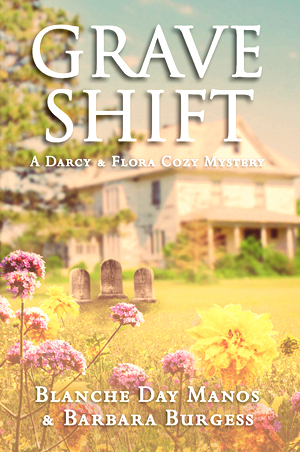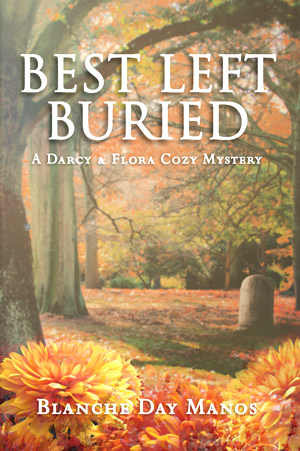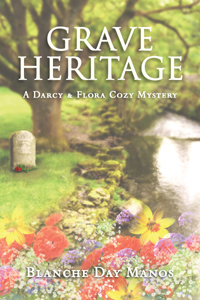 ---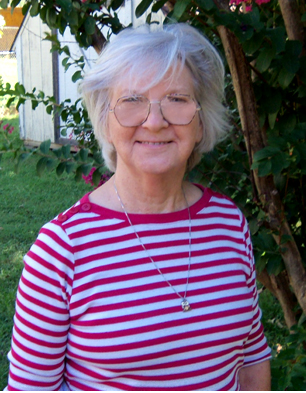 Blanche Day Manos is the author of the Darcy and Flora series about a mother and daughter sleuth team: The Cemetery Club, Grave Shift, Best Left Buried, and Grave Heritage. She also writes the Ned McNeil mysteries, following courageous heroine Nettie Elizabeth (Ned) McNeil through breath-taking scenes in Moonlight Can Be Murder and By the Fright of the Silvery Moon.
Blanche has been writing mysteries since she was big enough to hold a pencil. In addition to her cozy novels, she has been published in children's magazines, educational magazines, and Christian periodicals. She welcomes visitors to her daily blog site.
Her "Mysteries with an extra shiver" are cozies, but not the kind you might want to read at night when you are alone or need a good night's sleep. Each book actually has many shivers, cover to cover.
A native Oklahoman and retired teacher, Blanche now lives in bustling and energetic Northwest Arkansas. Her mysteries are set in the small towns she knows so well.

Fun Facts in No Particular Order:
* Grows herbs—the best kind of aromatherapy
* Played the piano for several different churches
* Is energized by lively daytime thunderstorms
* Is relaxed by thunderstorms that visit at night
* Has so many books, she'd be rich if each book were a dollar bill
* Forgets about time when painting or writing
* Has roots binding her to Ireland, the Cherokee people, and the Old South
* Is a pushover for kittens and puppies
* Bakes cakes from scratch just for fun
* Always begins each day with good, strong, hot coffee
* Derives a great deal of peace and strength from prayer
* Visited Ireland and fell in love with the Emerald Isle
Copyright © 2011–2015. Pen-L Publishing. All rights reserved.